You've Learned Your Lesson.
Now, visit the area's largest furniture showroom, with over 2,000 items in-stock and available for immediate delivery, you can improve the look of your home and your confidence on a Zoom call!
BRANDS WE CARRY
Fitzwater Furniture is proud to offer you a wide variety of top-quality, high end brands of furnishings that can complement your home and decor. We'll help you choose the right products to meet your needs.
Lesson #01 - Thanks to Zoom Meetings - Everyone Has Seen Your House.
And now you have realized that your furniture may be JUST a bit dated. Perhaps you may even feel that your rooms are several years, or even decades, out of style. 
Lesson learned: Refresh your home!
You have to spend a lot of time in your home, you might as well LOVE it! Find the style that matches you with the thousands of items we have in stock. Call us today!
Lesson #02 - DIY Furniture Is Not always as Functional as you'd like it to be.
Sure, it may have seemed like a good idea at the time. It'll be temporary, they said. Well, now it's been two months. Other people need to use the chairs, Karen.
Lesson learned: Find the right furniture for the job!
You've spent a lot of time learning what you need. What would work best. The great news is that the perfect piece of furniture to fill that need, is probably in stock at Fitzwater!
Lesson #03 - Sitting in the Same Spot for 8 Weeks Isn't Good For Furniture.
The evidence of your frequent sitting position over the last two months might just hit you like a "big bang" when you turn around and notice something that looks like this. Clearly your favorite spot is now an eye sore. At this point you have only a few options, switch sides and sit there for two months, or…
Lesson learned: Start over again.
Okay, so sitting in the same position on your furniture isn't the greatest idea. But with care and quality materials, your new sofa won't get worn out so quickly. Though, you may want to get up and move around from time-to-time.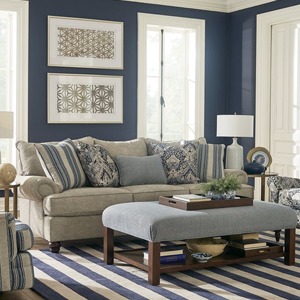 LIVING ROOM
With Fitzwater Furniture, you'll find the latest styles and trends, as well as the timeless classics. We have a great selection of sofas, reclining sofas, leather sofas, loveseats, chairs, recliners, ottomans, recliners, chaises, sectionals, and more.
BEDROOM
We have a great selection of beds, dressers, nightstands, armoires, chests, and kids bedroom furniture. With a range of styles and quality you'll be able to find the perfect bedroom furniture for your situation.
DINING ROOM
We offer dining room furniture to fit any home, whether it's a simple dining room or an elaborate formal dining room. We have a broad selection of dining room tables, pub tables, chairs, bars, bar stools, baker's racks, buffets, servers, china cabinets, and more.
WE HELP TO CRAFT HOPES & DREAMS
WITH LOVING CARE AND DEDICATION TO YOUR COMFORT
Fitzwater Furniture was established in 1947 as a family business. Over the past sixty years our business has grown to our present location that has over twenty thousand feet of showroom space with a large support warehouse facility.Today when you visit our showroom you will see a complete line of home furnishings. Everything from living room, dining room, bedroom, bedding and lighting to area rugs, wall art and accessories—are available to complete your home. We welcome you to stroll through our homelike settings, trusting that with our years of experience, buying power, selection and competitive pricing your one-stop shopping just became easier!
Best of all, Fitzwater Furniture is known for meeting the needs of both your primary and vacation homes. As a matter of fact, many of our customers started as vacation homeowners and now count on us to help them with their primary homes in and out of the area!
Our friendly professional sales staff is always ready to assist you in making your home furnishing selections. We also partner with several area designers, should you choose design assistance. Either way, Fitzwater Furniture looks forward to meeting your individual taste and needs!
Who We Are
We are a full furniture store with items for every room and every need; from your floors to your walls.
Services We Offer
We offer items for nearly every room in your home, from dining rooms and living rooms to bedrooms and accessories for every step of the way.
SEE. FEEL. BELIEVE.
Stop in our showroom to experience the comforts of top quality furniture and materials.
PUT IT ALL TOGETHER.
Our helpful experts will help you make each room your own.
THE BEST BRANDS.
We carry only the finest brands and are able to get exactly what you need to make your living space perfect.
COUNTRY | RUSTIC | TRADITIONAL | CASUAL | CONTEMPORARY